Overview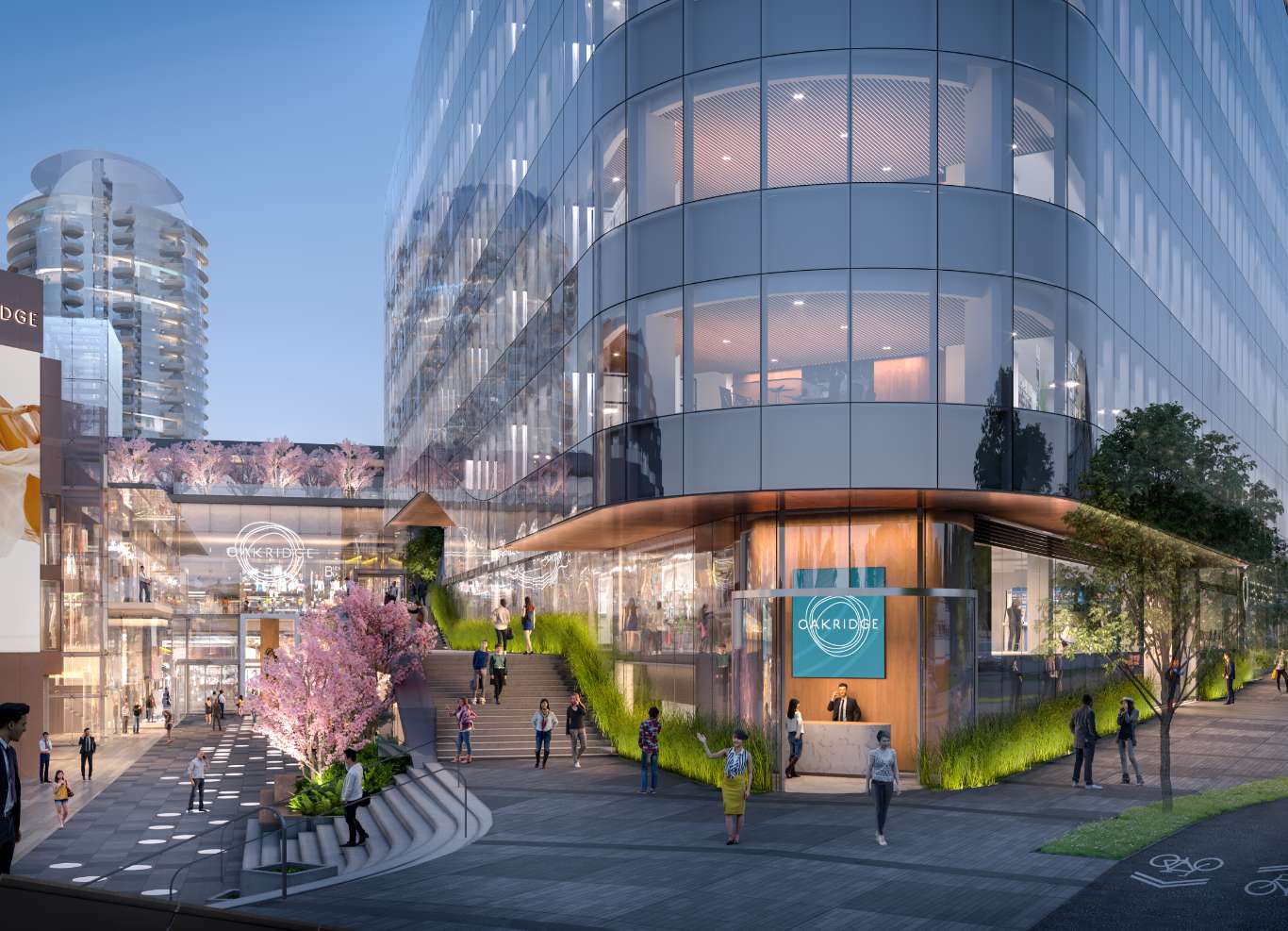 Designed for the Future
Workspaces will be designed for the future, created in response to the changing needs of workers, and in recognition that we are shifting more and more each day away from a traditional resource-based economy, towards a creative economy.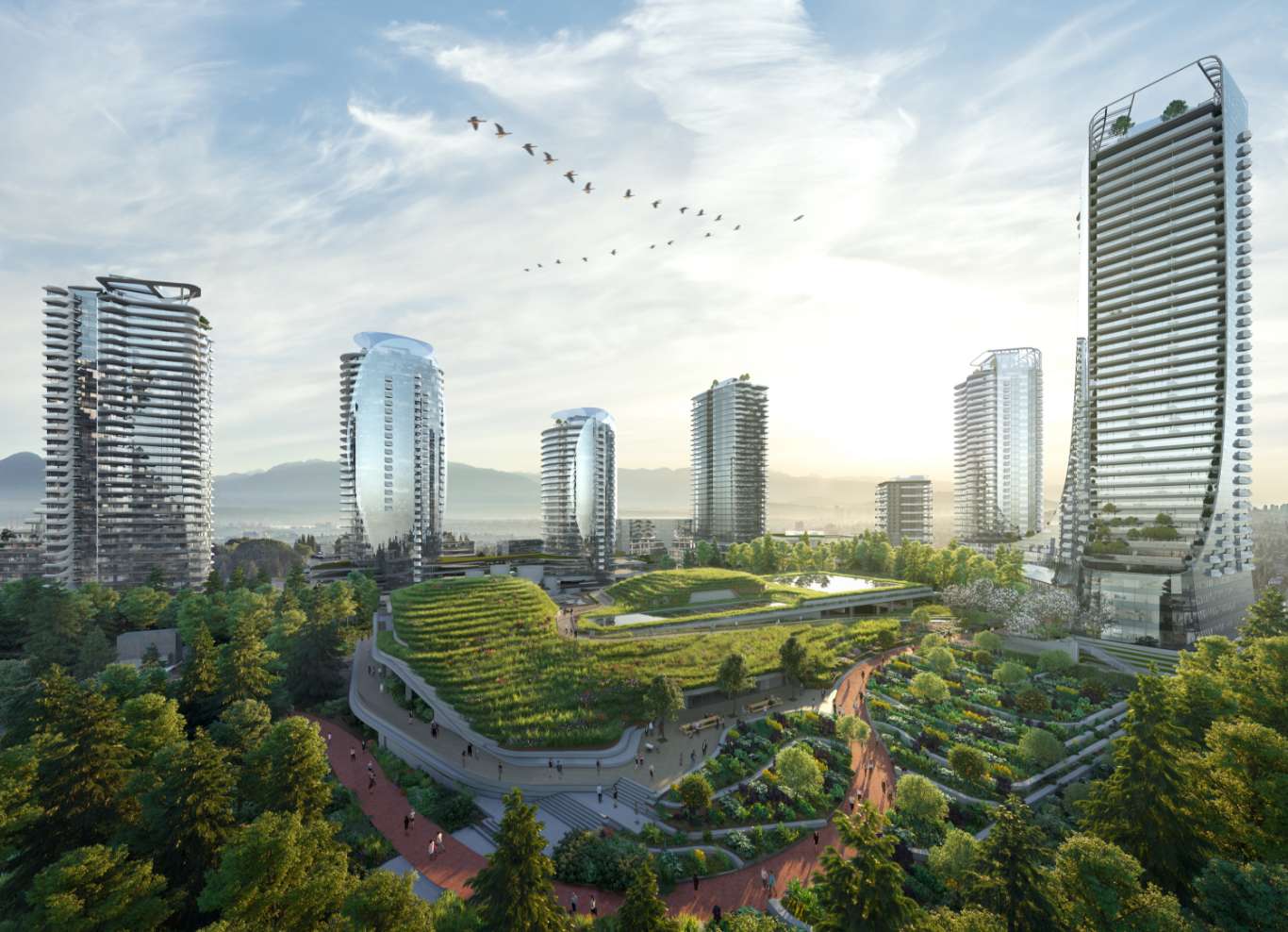 Clean Power For All
Oakridge Park has installed one of the largest District Energy Systems in Vancouver, resulting in clean hydropower to every building in the project and significant heating/cooling efficiencies. Overall greenhouse gas emissions offer 72% savings when compared to a typical natural gas boiler system.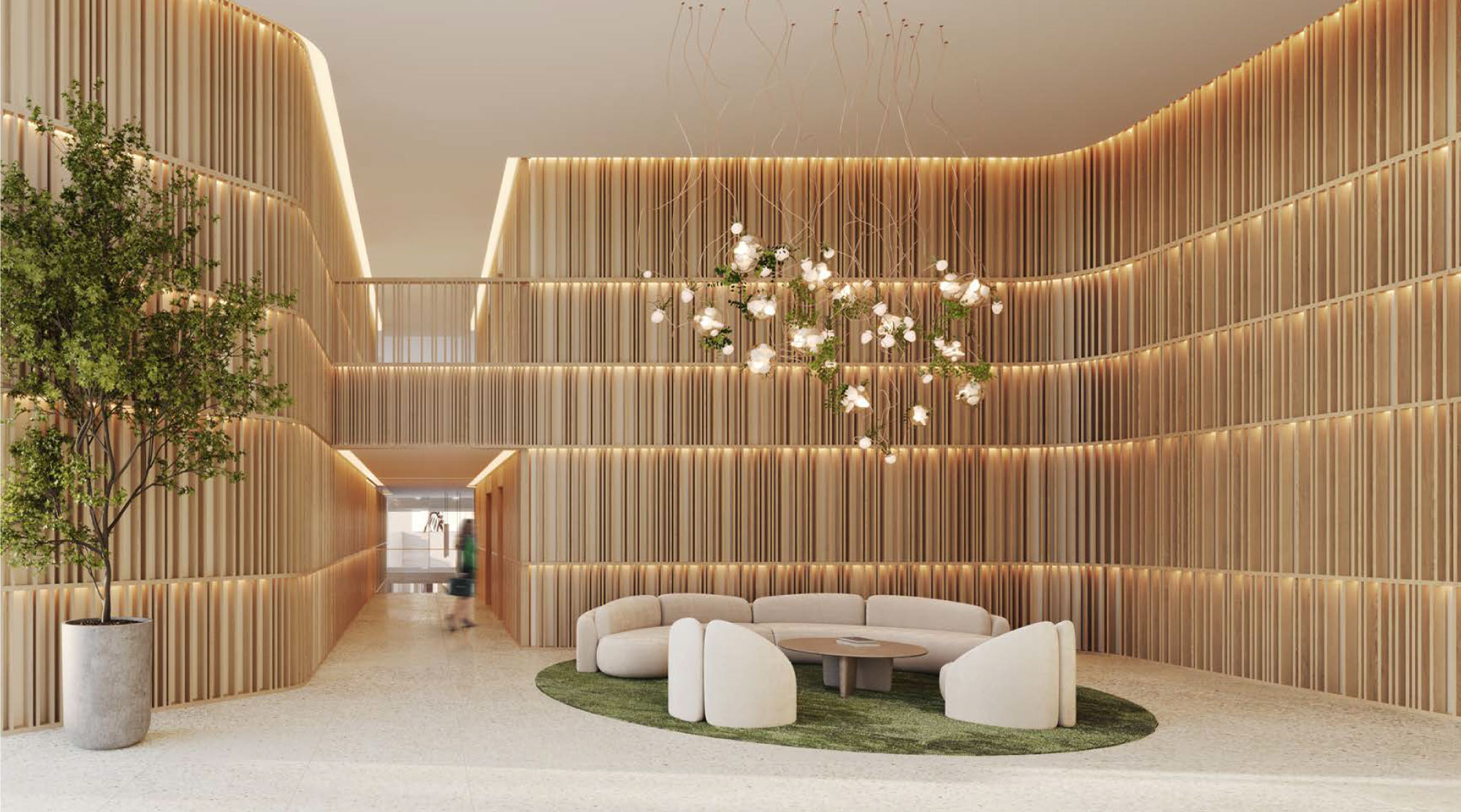 A Legacy of Wellness
Oakridge has been a medical node for decades with an array of clinics ranging from health care, pediatric care, cosmetic surgery, and dentistry.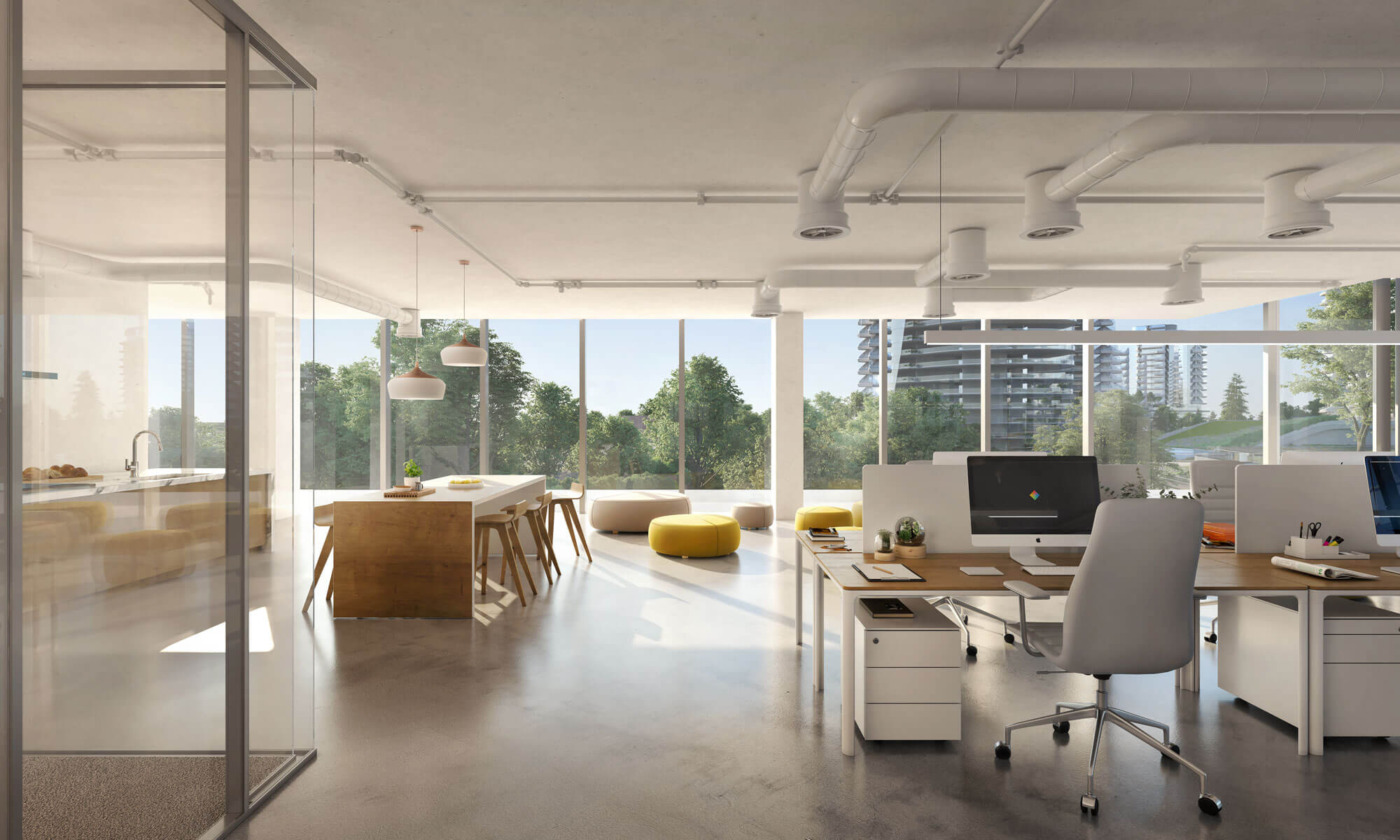 Interdisciplinary Design
The office spaces of Oakridge will forego the traditional 'fixed' grid of anchored desks and isolated cubicles in favour of open designs that support cross-functional settings and multidisciplinary teams. Pioneered by creative agencies and tech companies, these highly sought-after layouts have proven to increase productivity and innovation in the workplace, contributing to the overall success of a company.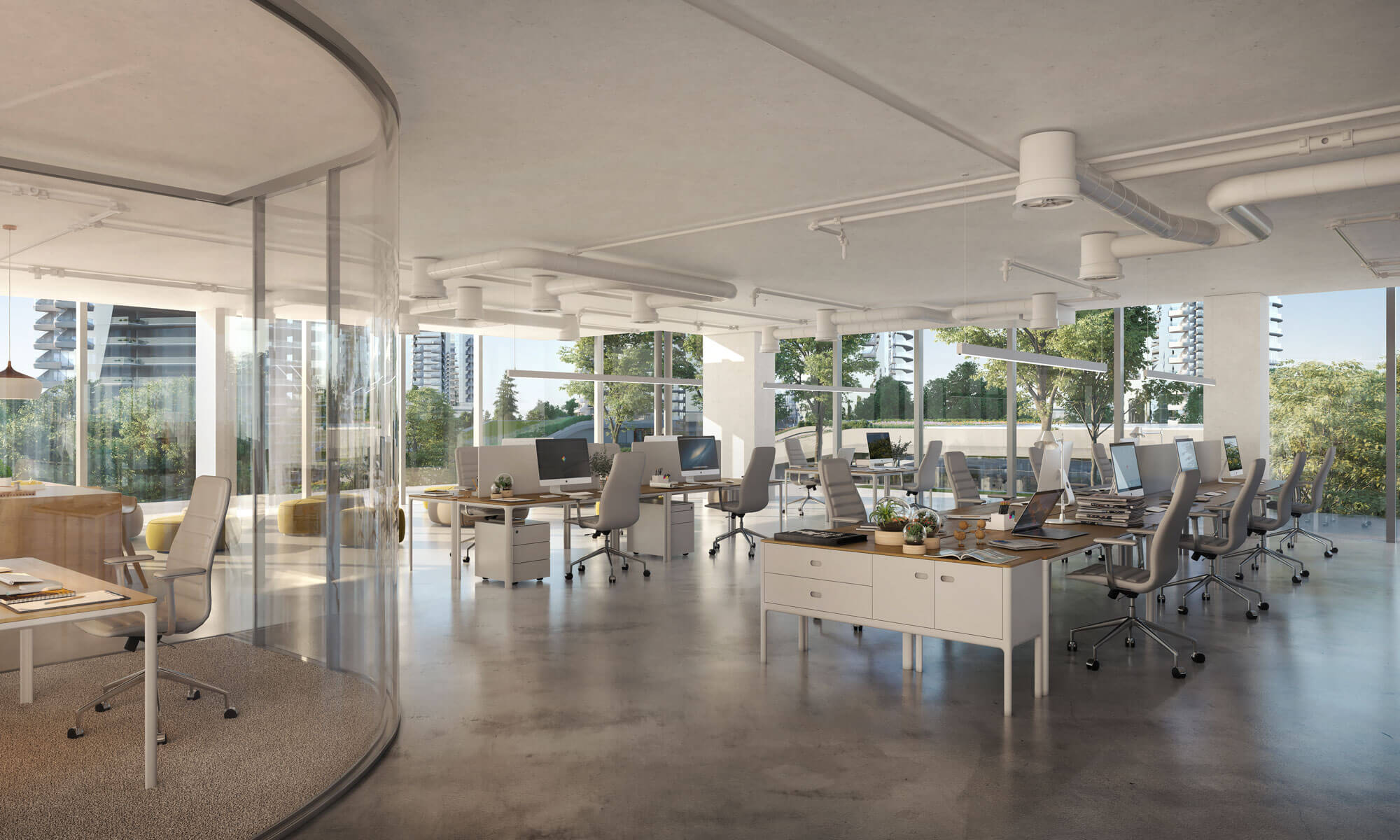 Collaborative Environments
As Vancouver increasingly seeks to compete against other global cities to attract top tier creative economy firms, we need to develop spaces that are consciously aligned with the collaborate work styles of these companies—including businesses of all types that are interested in remodelling themselves to a more open work environment.
Floor plans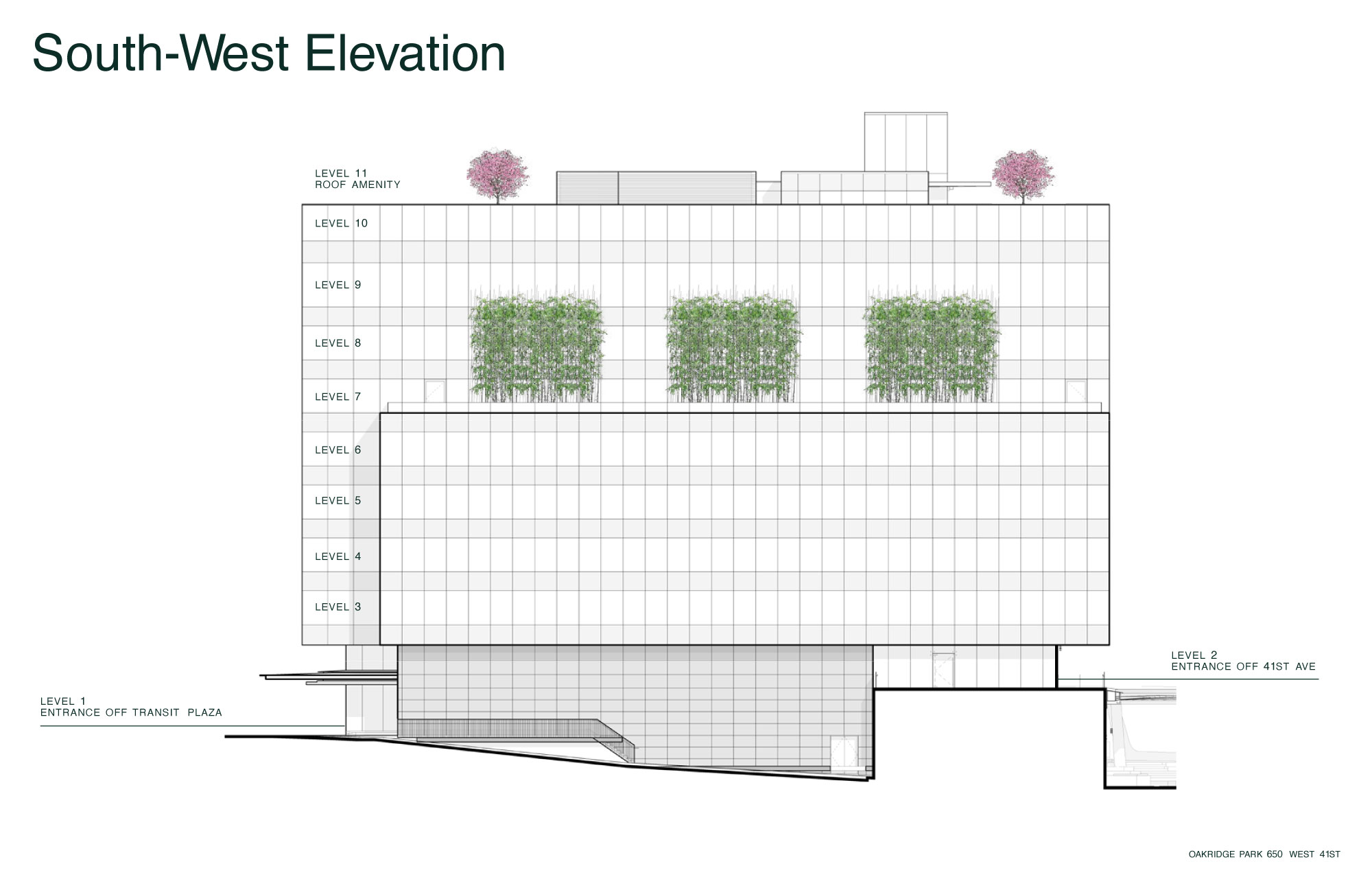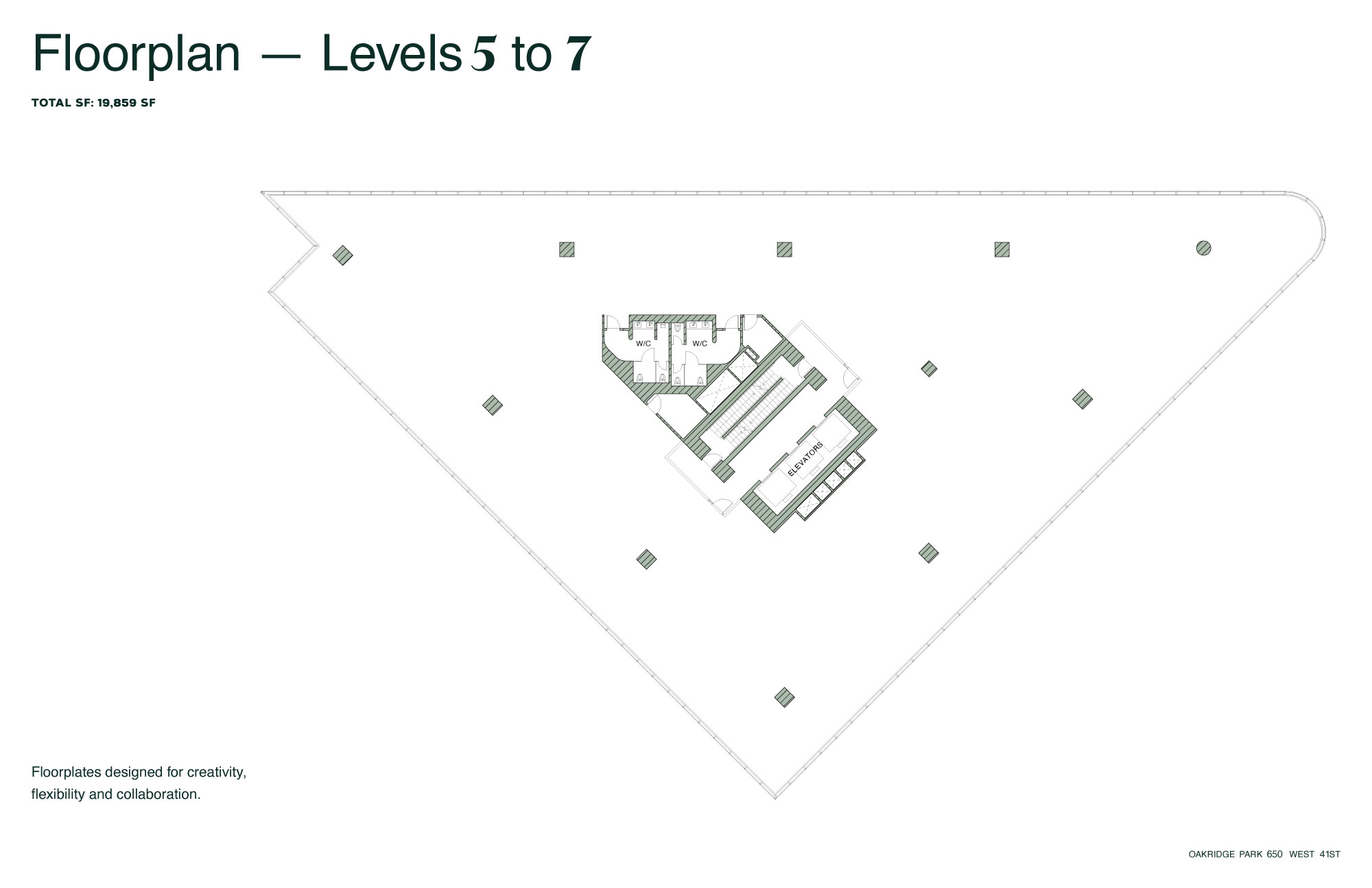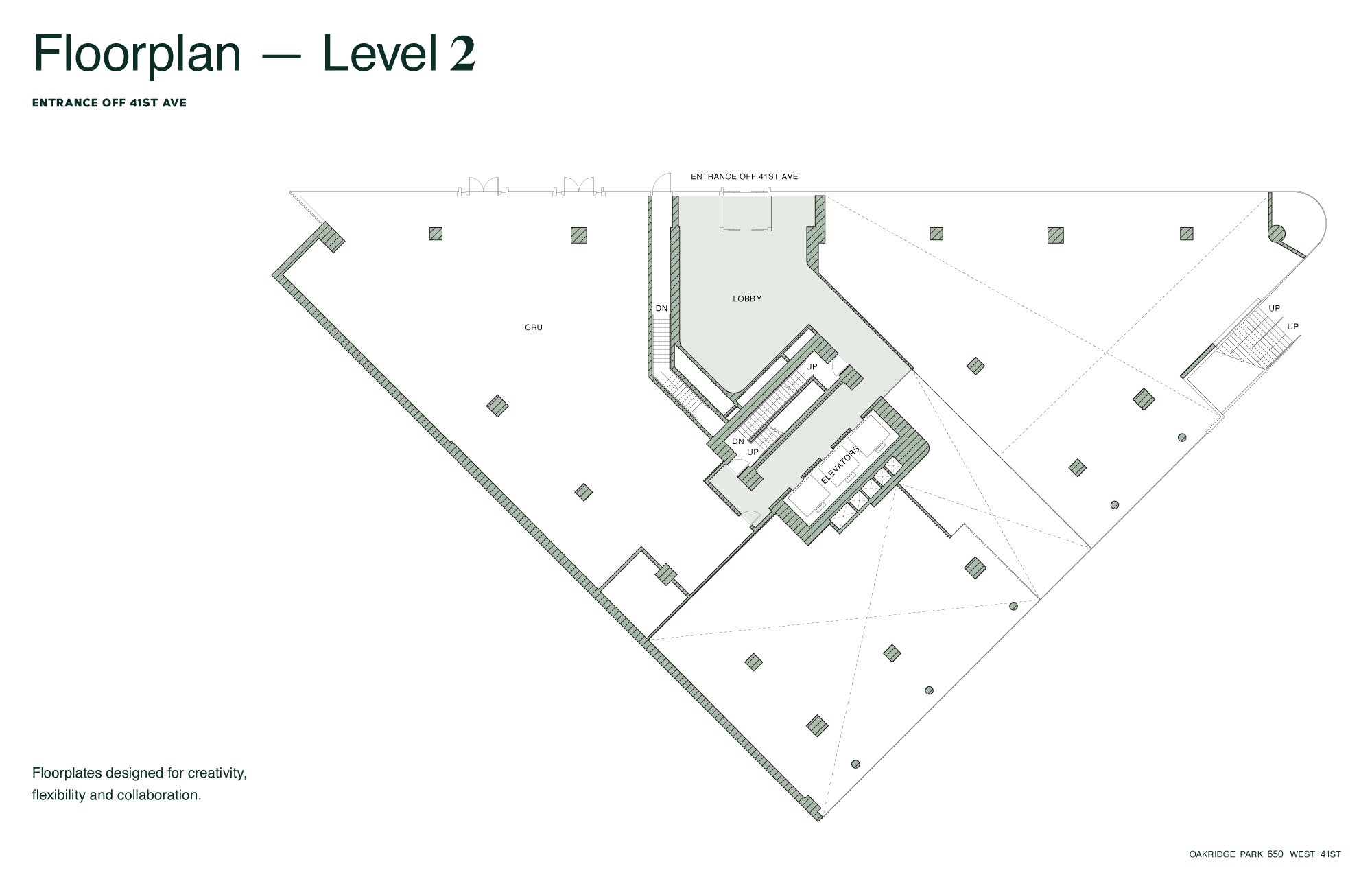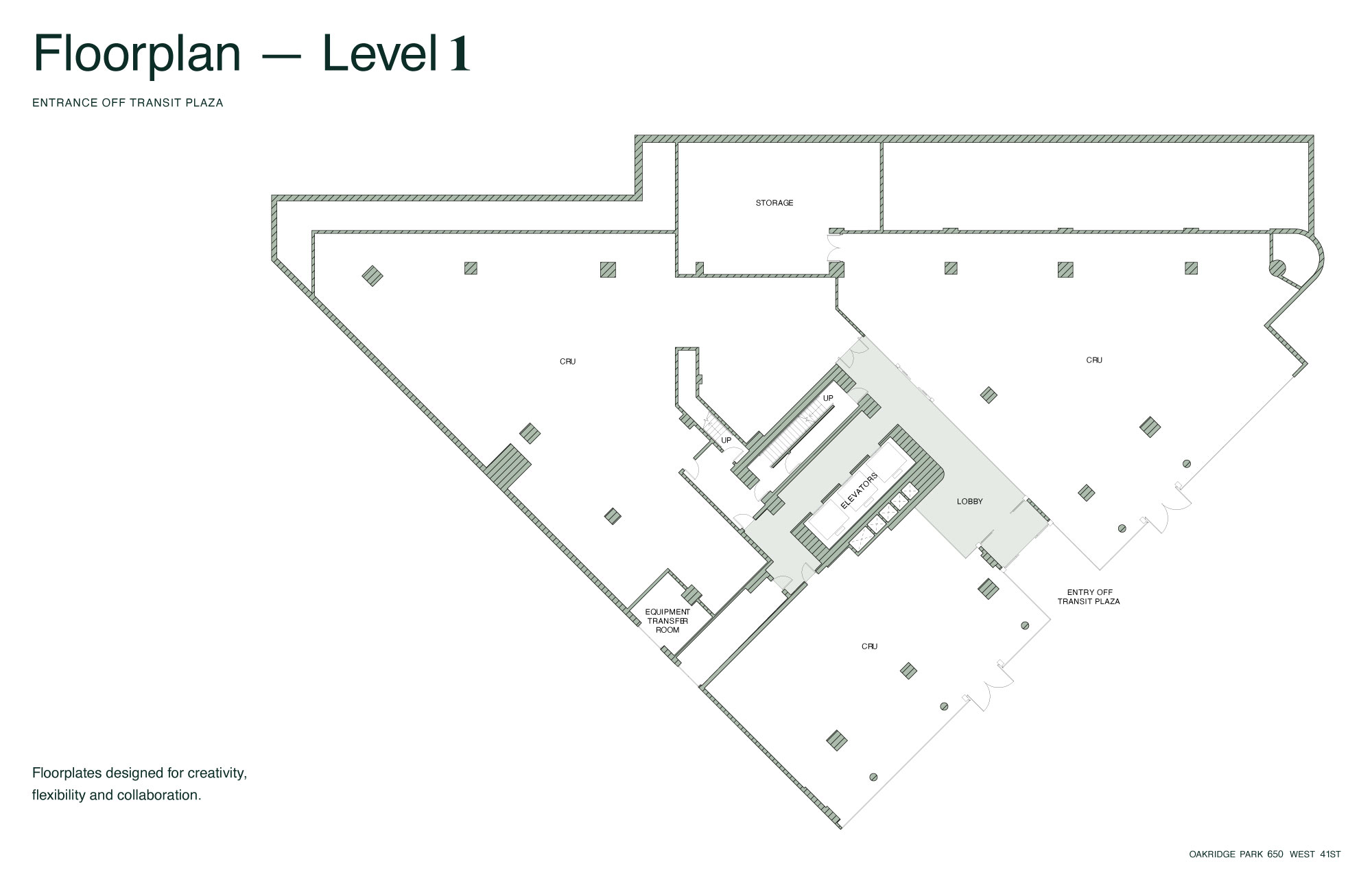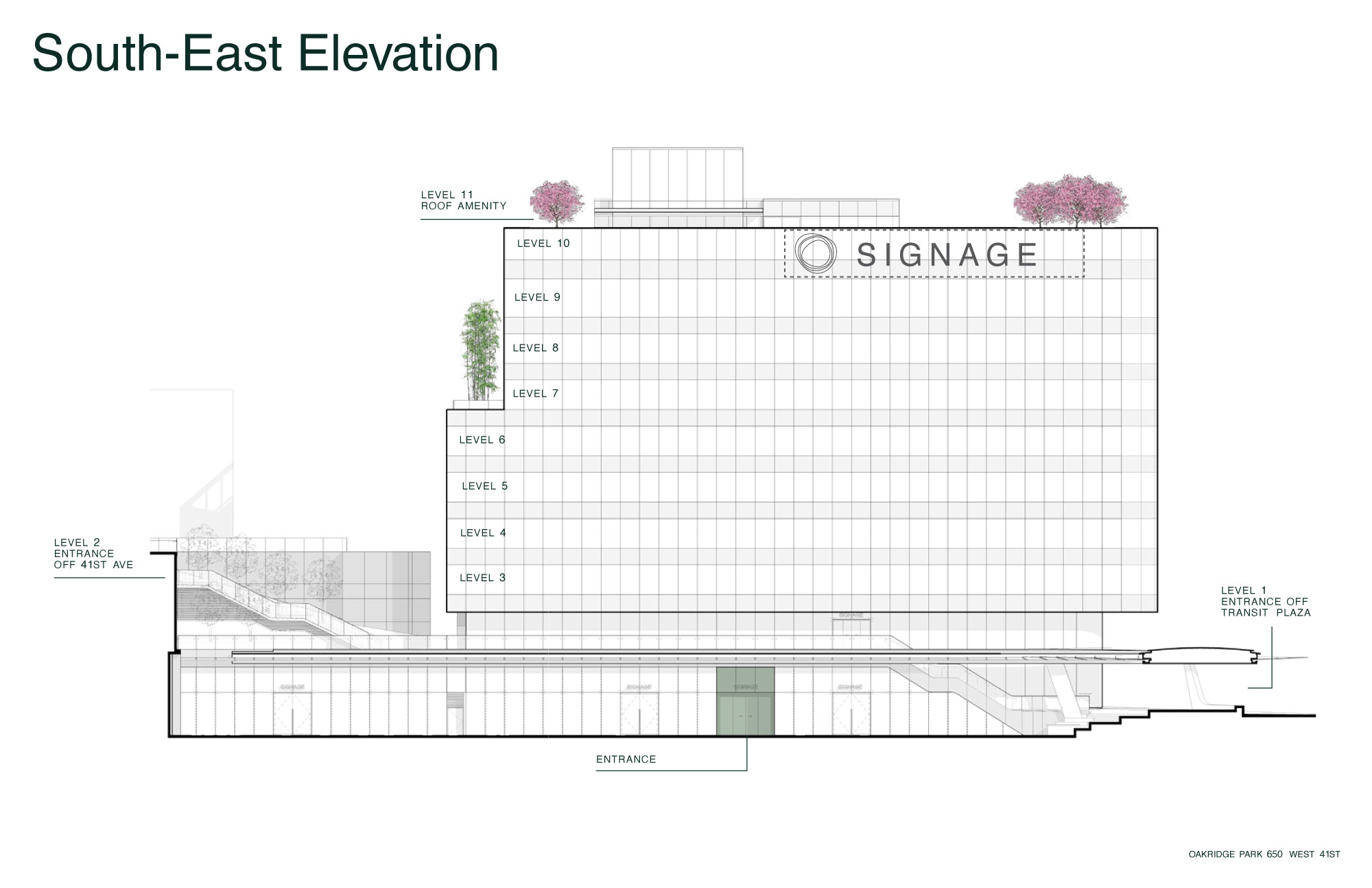 Specifications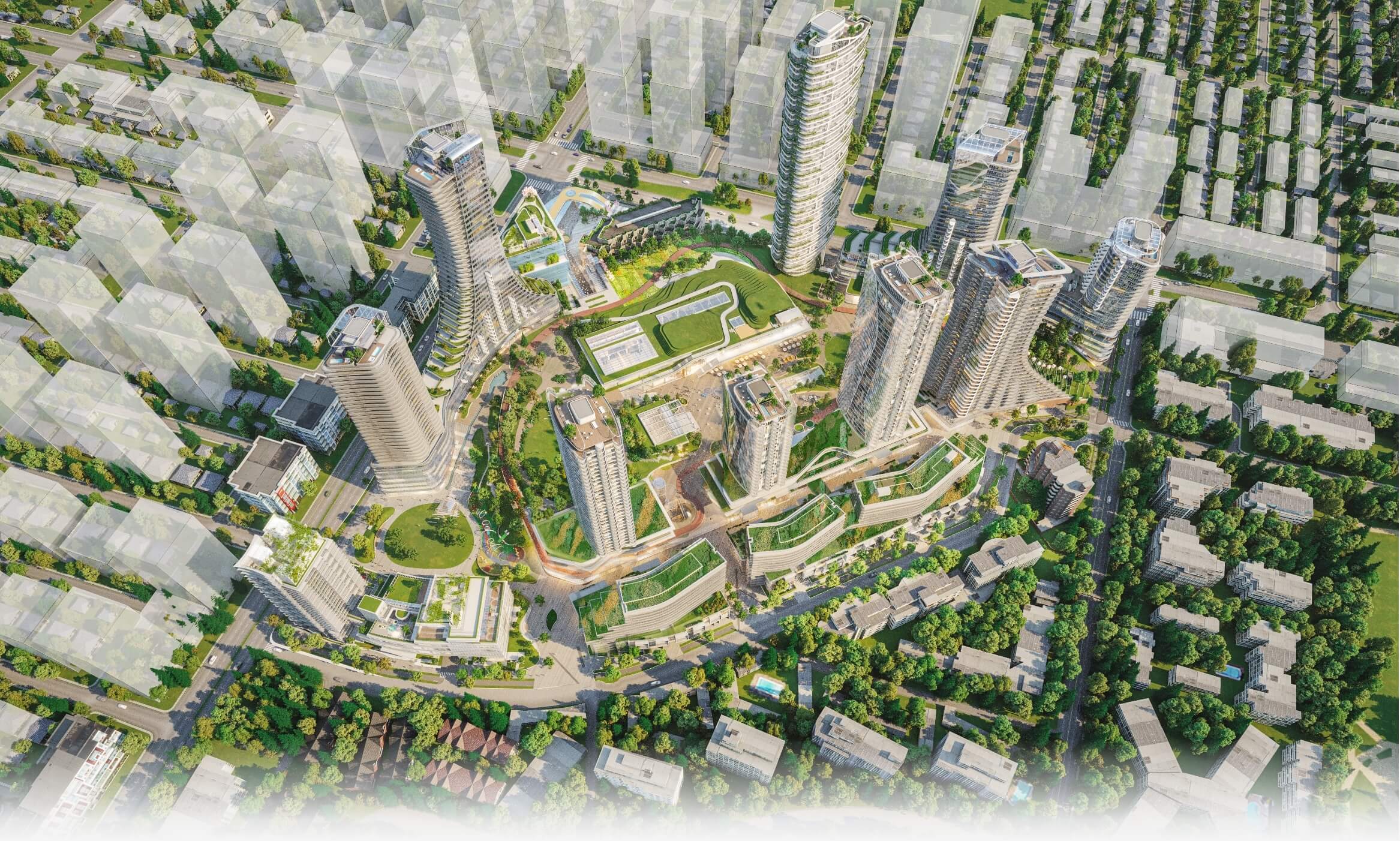 ARCHITECTURAL
The new concrete floors have a smooth troweled finish, ready for carpet installation by the Tenant.
Core walls have steel stud furring with drywall finishes that are taped, filled, sanded and prime painted to a level 3 standard, ready for painting or other finishes by Tenant. Drywall finishes extend to the underside of concrete slab, all columns are concrete finish.
Exterior perimeter walls consist of high performance, thermally broken, aluminum framed curtainwall glazing assembly with triple glazed insulating sealed units.
Building standard roller blinds are to be installed on all exterior glazing. Blinds to be supplied by the Landlord and installed by the Tenant at the Tenants' cost.
The ceiling will be open and will allow for 11' from floor to underside of slab. This will allow for maximum 22" space for the installation of M&E equipment.
HVAC
Heating and cooling at the perimeter zone will be provided by 4-pipe, low static, chilled/hot water, fan coil systems installed in the ceiling space.
Thermostatic control zones are provided at a maximum of 1 per 750 sf of the rentable area of the premises.
General exhaust is provided at the core to allow Tenant to exhaust lunchrooms, meeting rooms, etc. For multi-tenant floors, a general exhaust duct will be terminated in the ceiling of each tenant space. A washroom exhaust duct cap off for 500 CFM is provided at the core on each floor for future tenant washroom additions.
Direct Digital Controls (DDC) are provided for the control of the overall mechanical system and each control zone. The DDC system will allow Tenant to control individual zones for temperature control; setback temperatures and operation at extended hours.
STRUCTURAL
The floor structure consists primarily of post tension concrete construction, which consists of an average 13" thick slab. Designed to accommodate 60 SF live load.
PLUMBING
Provision for plumbing connections is provided on the building core as follows. 1" diameter capped and valve domestic cold water (2 locations) and 4" diameter sanitary and 2" diameter vent locations. Hot water supply is via electric hot water heaters by Tenant.
MULTI-TENANTED FLOORS
Flooring for the elevator lobbies will consist of porcelain tile throughout.
Demising walls between units will consist of steel stud framing with drywall finishes that are taped, filled, sanded, and prime painted to a level 3 standard ready for paint. The acoustic rating for the corridor to units will be approximate STC rating of 50, and with a fire rating to code.
Luminaires: Building standard LED light fixtures are installed to provide light that meets building code.
Bathroom will be completed by landlord to the mandatory number directed by code. Finished with porcelain floor and wall tiles. Mosaic accent tiles at vanity area, wood textured HPL toilet partitions and solid surface countertops with undermount sinks and brushed nickel fixtures.
SUSTAINABILITY
The office space will connect to Creative Energy's district energy system via a dedicated energy transfer station. High-efficiency lighting and HVAC systems paired with high performance glazing and wall assemblies and reduced thermal bridging will reduce energy demands and overall energy consumption, while improving the indoor environmental quality and overall occupant comfort.
Verified direct ventilation, low-emitting base building finishes and indoor air quality testing prior to occupancy will support enhanced indoor air quality to protect the health of future building occupants by reducing pollutant sources and diluting any introduced pollutants through ventilation.
Water efficiency and potable water use reductions will be realized through a groundwater reuse system. Furnishings include concrete sitting walls, with wood tops.
ENTRANCE VESTIBULES
Tall and generous transitional spaces with stainless steel walk off grille, clear glass partitions and glass sliding doors lead into the public interconnected lobby.
LIFE SAFETY (MECHANICAL)
Automatic Fire Protection System: All Tenant areas are served by an automatic fire protection system in accordance with NFPA 13, 2013 and City of Vancouver Standards.
Smoke Evacuation: A smoke evacuation system is provided on each floor. This system is interconnected to the fire alarm system and controlled at the central fire alarm panel.
ELECTRICAL
Secondary Distribution: Power is distributed from a transformer to each Tenant at 208/120 volt – 3 phase – 4 wire via conduit & cable.
The Riser Capacity is sized based on LED Lighting at 1.0 watt/sf, Tenant Plug-in Power at 5.0 watt/sf and Mechanical at 1.5 watt/sf.
Emergency Lighting Power: Each floor has a dedicated 120 volt circuit for emergency lighting within tenant space.
Luminaires (Base Building Lights): Building standard LED light fixtures are installed to provide light that meets building code.
TELECOMMUNICATIONS
The landlord has provided POP space for service providers within Level P1. The POPs are connected to a telecommunications riser system by a generous quantity of 4" sleeves. This telecommunications riser is connected vertically from the main communication rooms up to the penthouse.
Cable installation, both copper and fiber, within the risers will be completed and managed by an appointed Riser Manager at the Tenants' cost.
SECURITY
The main floor perimeter is serviced by an Access Control System consisting of card readers, electric strikes, magnetic locks, door contacts, etc. In addition, some CCTV coverage is provided. All passenger and service elevators will be serviced by card readers.
Lock sets and provision for electronic card readers and electric door latches are provided at all stairwell doors.
ELEVATORS
Three centre opening 3,500 lb elevators at each lobby in each building, with access to all below grade and above grade office levels with stainless steel finishing.
Secure restricted floor access provided through integrated elevator card readers.
EXTERIOR LANDSCAPING
The nearly 10-acre park features a mixture of planting, water features and seating.
LOADING AND SERVICE
Loading Dock manager for operations and maintenance.
Dedicated below grade Class A and Class B loading spaces located on P3, accessible from 41st or Cambie Street.
Dedicated office garbage and recycling rooms located below grade.
LIFE SAFETY
Automatic Fire Protection System in all tenant areas are served by an automatic fire protection system. Light hazard, quick response, upright heads will be provided in 1'' outlets.
A fire alarm with speakers located throughout for alarm will be provided.
PARKING AND ACCESS
Access to the parkade can be located off 41st Ave or Cambie St. There are multiple alternative entrances into the parkade.
Office parking will be valet serviced.
LOBBY
Smooth curves shape the generous lobby interior with high ceilings. A combination of continuous light coves along walls and vertically glowing accent pendant lights inside the stair centre opening create a warm and welcoming atmosphere.